Original Article By:  Andy Brownfield, Cincinnati Business Courier, August 26, 2016
A new-to-market fast-casual concept focusing on healthy cuisine is coming to Cincinnati and opening four locations.
Crazy Bowls & Wraps will open its first Cincinnati-area location in Blue Ash at 9525 Kenwood Road in the beginning of November. The chain plans to open additional locations in Mason, Florence and Hyde Park by early 2017.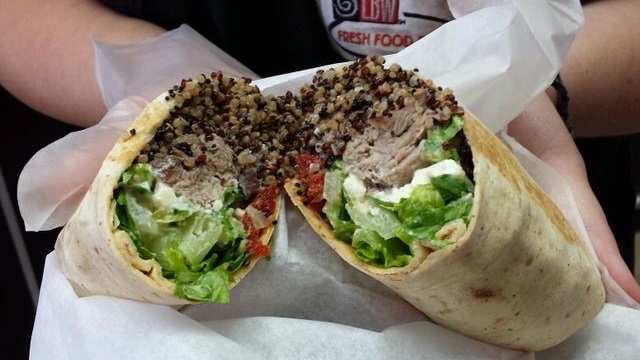 Crazy Bowls was born 22 years ago in St. Louis.
"My wife and I started it, operating under the premise you could serve healthier-type food and people would buy it," co-founder Keith Kitsis told me. "It was kind of a novel concept back then. We were young and dumb and wanted to do this under the concept that you serve others."
Crazy Bowls was doing kale and brown rice before those things were cool. The ordering process is a bit different from other fast-casual concepts.The restaurant's menu works like this: first, diners choose what kind of dish they want, a salad, bowl or wrap.
Salads are pretty straightforward. The diner chooses what kind of protein he or she wants – organic grilled tofu, grilled or crunchy chicken breast, grilled steak or grilled salmon – and then the type of salad: tossed kale with quinoa, Santa Fe, tostada or multi-grain quinoa. Salads can be topped with chips or a tortilla.
Bowls involve the same choice of protein but then a choice of grain (jasmine rice, brown rice, noodles or quinoa), veggie options and multiple sauces.
Wraps also involve a choice of protein, grain and then a whole wheat, flour or tomato tortilla. They can be served grilled or fresh.
"We always try to say that healthy food doesn't have to be expensive and it can taste good," Kitsis said.
Kitsis himself doesn't always eat healthy, but he tries to keep the majority of his meals not junk. His interest in healthy food developed at a young age.
"I was a pudgy kid in middle school, and I had to look at what I was eating and get away from Frosted Flakes and sodas and get into things that were better fuel for my body," he said. "I was a weird kid. I was interested in gardening and things like that, so I would grow my own things and cook them."
The price range for Crazy Bowls' food is $8.25 to $10. It may not be as inexpensive as something like Chipotle, but part of Crazy Bowls' philosophy is to pay its workers a decent wage and hire good managers.
The Cincinnati restaurants will be Crazy Bowls' first expansion into Ohio. It has 19 locations in Missouri, Illinois and California.
Cincinnati was chosen because of its similarities to St. Louis.
"I got a really good feel for the town," Kitsis said. "It was highly educated, and I found some of the areas that were similar to areas in St. Louis. It sounds kind of corny, but the people were very welcoming and it made sense to me how to locate stores."
Source:  Cincinnati Business Courier
Crazy Bowls and Wraps is represented by Kevin Shapiro of L3 Corporation