Original Article By:  Ian Froeb, St. Louis Post Dispatch, June 14, 2016
Since Michael Gallina returned late last year to his native St. Louis, the former chef de cuisine of the internationally acclaimed restaurant Blue Hill at Stone Barns in Tarrytown, NY, and his wife and business partner, Tara Gallina, have teased local diners with a series of pop-up dinners.
Now the couple is ready to put down roots.
The Gallinas will open a restaurant called Vicia this fall at the corner of South Boyle and Duncan avenues in the Central West End. The 2,500-square-foot space, with seating for 50 (and additional seating planned for a 1,500-square-foot outdoor space), is contiguous to the new TechShop building now under construction at 4260 Forest Park Avenue in the Cortex Innovation Community.
The Gallinas weren't initially considering Cortex as the location for their restaurant. That changed after a meeting there to discuss a pop-up event.
"The guy (we were meeting with) gave us a tour and told us all about the idea behind Cortex and the creativity and innovation," Michael Gallina tells Off the Menu. "That piqued us."
Tara Gallina agrees: "We left our first meeting (at Cortex) feeling something really big is happening here."
A week later, the Gallinas' real-estate broker [Kevin Shapiro of L3 Corporation] happened to mention that a restaurant space was available in Cortex — the space that will become Vicia.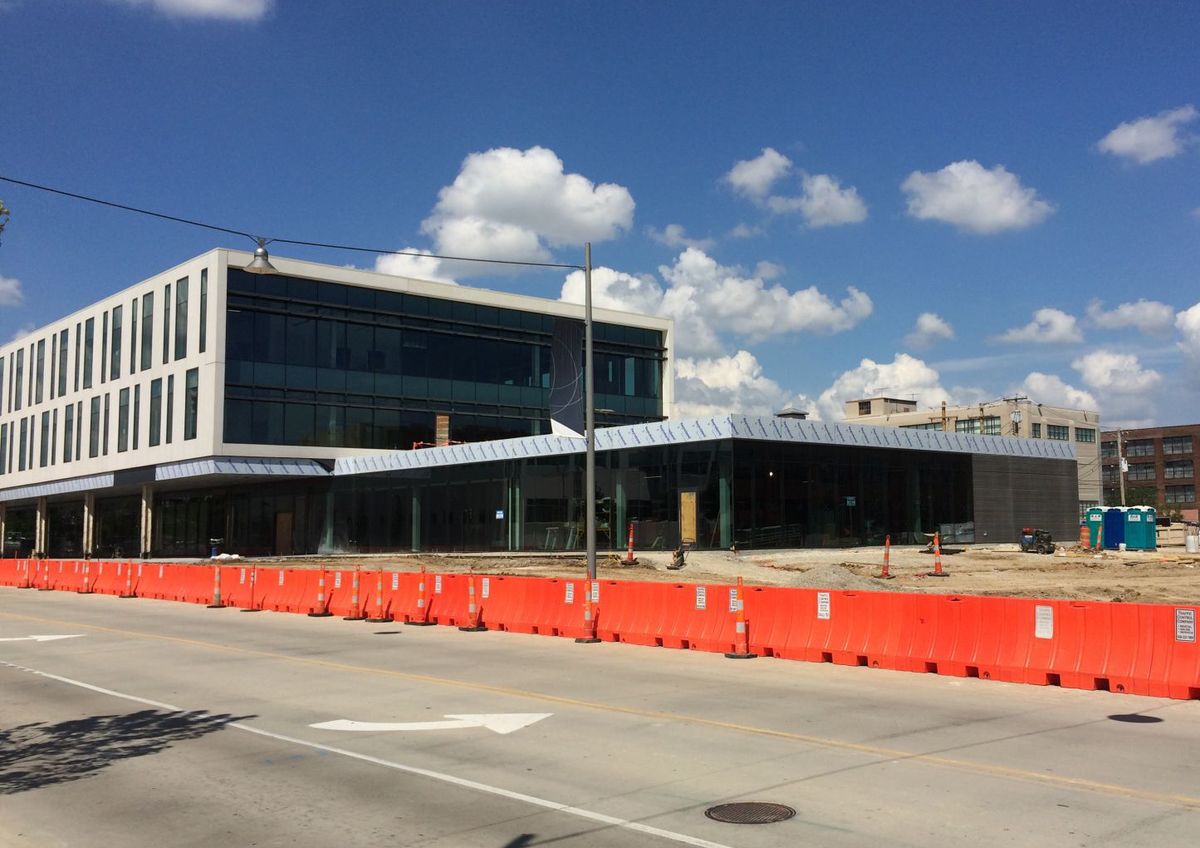 (The future home of Vicia, at the corner of South Boyle and Duncan avenues in the Central West End. Photo by Ian Froeb, ifroeb@post-dispatch.com)
Vicia — pronounced vis-see-ya and named for the genus of plant species that includes vetch, a common cover crop in Missouri — will feature vegetable-forward, wood-fired cooking with ingredients from local farmers and producers.
"What really excites me about cooking on a wood-fired grill are all the different things you can do," Michael Gallina says. "There are so many varieties of woods you can cook with. One of the meals that inspired me is the tasting menu at Asador Extebarri in Spain, where everything is cooked on different wood or charcoal."
Gallina says he is especially excited about all the different flavors and textures that wood-fired cooking can impart, from gently cooking food by hanging it high above the fire to submerging ingredients in the embers. At Blue Hill, he says, the kitchen even made charcoal from the bones leftover from making stock.
As for "vegetable-forward" cooking, this isn't vegetarian fare but rather an approach increasingly prominent at progressive restaurants nationwide in which the vegetables take center stage while meat and other proteins play supporting roles.
As Tara Gallina told Off the Menu in December when announcing the couple's first pop-up dinners: "For us, cooking with vegetables isn't so much because it's a fad. They're delicious. There's a tremendous amount that can be done with all the parts."
The Gallinas aren't ready to discuss exact menu details and pricing, but Vicia will be open for lunch and dinner and will emphasize a-la-carte ordering. The menu will change daily as different ingredients become available.
Michael Gallina says one of his goals is to create an "approachable" restaurant to which diners can return two or three times a week, rather than a special-occasion restaurant that they visit only once every six months.
The Gallinas have targeted early fall for Vicia's opening.
"It's pure excitement to get this off the ground and start feeding people," Tara Gallina says.
Source:  St. Louis Post Dispatch