Original Article By: Debra D. Bass, St. Louis Post Dispatch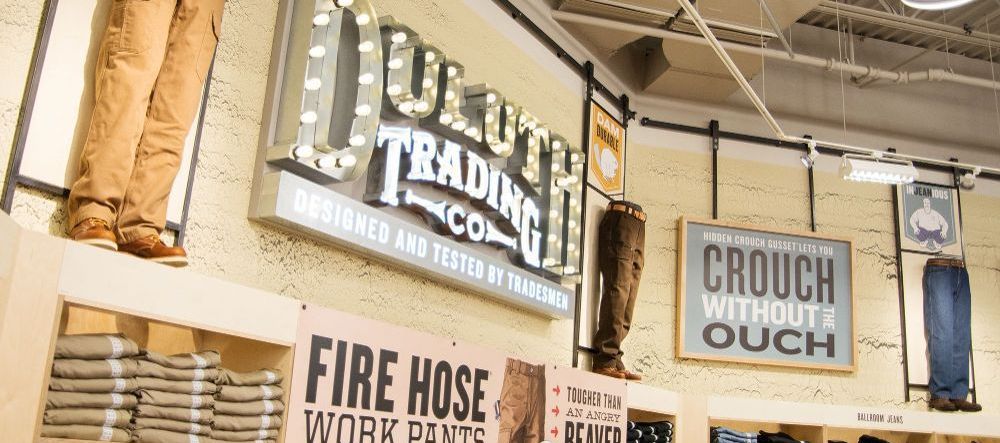 A Duluth Trading Co. store — the second in Missouri — will open later this summer in St. Charles.
The Belleville, Wis.-based retailer plans to hold a job fair next week for the store at 1439 Bass Pro Drive, where the defunct Side Pockets Restaurant & Sports Bar was located.
The retailer is looking to fill about 40 positions, including six full-time jobs, a spokeswoman said by email. Jobs start July 25; the store is expected to open in late August.
Duluth Trading Co., which sells men's and women's casual wear, workwear and accessories, is in the midst of expanding into retail after a heavy emphasis in digital and catalog sales.
During a first quarter fiscal announcement on April 30, company CEO Stephanie Pugliese said that net sales increased nearly 22 percent to $83.7 million compared to $68.6 million the prior year's first quarter.
Those sales were attributed to brick-and-mortar growth. Duluth had 20 stores in the first quarter of 2017, compared to nine in the same period a year ago. Four of those stores opened early 2017. Its first Missouri store, located in Independence, opened in December 2016.
In fiscal 2017, Pugliese said the brand expects to open 12 retail stores and one outlet store. These openings will add approximately 150,000 square feet of sales floor.
And if job seekers are looking for tips on employment, come with a smile and a sense of humor. The company is prone to cheeky puns, groan-worthy humor, as in its line of "buck naked underwear" and a shirt to cure plumber's crack, as well as a winking self-reverence as in its claim of being a "multi-channel apparel retailer carrying on that tradition of ingenious workwear."
The four-day job fair runs June 28 through July 1 at the Best Western Plus — the Charles Hotel, 1425 South Fifth Street, St. Charles. Hours are 9 a.m. until 6 p.m. Wednesday, Thursday and Friday and 9 a.m. until 3 p.m. Saturday. More information is available at duluthtrading.com/careers.
Fresh thyme grows here
Fresh Thyme Farmers Market, a Midwest specialty retailer focused on value-priced healthy and organic products and groceries has announced plans to open two more stores in the St. Louis region next year. The grocer has secured leases on property in St. Charles and south St. Louis County.
The first store will be located at the southwest corner of South St. Peters Parkway and Woodstone Drive and the second at 9920 Lin Ferry Drive. The grocer says details on the opening date and jobs created will be released in the coming months.
Source:  St. Louis Post Dispatch
L3 Corporation is a leading retail commercial brokerage firm specializing in tenant representation, landlord representation and property acquisition and disposition. Members of L3 Corporation have brought deals to fruition in excess of 35,650,000 square feet spanning over 100 cities throughout the United States and Canada. L3 Corporation is focused exclusively on retail real estate. Contact Kevin Shapiro for more information about the Duluth Trading deal in St. Charles, or Ian Silberman / Craig Wielansky about Fresh Thyme Farmers Market or for any of your retail real estate needs.