Original Article By:  Brian Feldt, St. Louis Post-Dispatch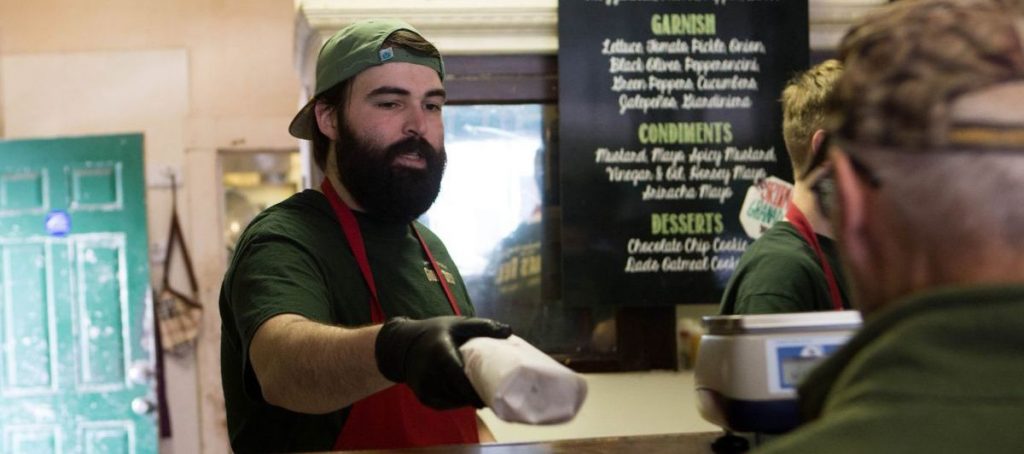 Alex Donley bought a food truck for Gioia's Deli [represented by Kevin Shapiro of L3] in 2014 with the goal of introducing the broader St. Louis region to his nearly 100-year-old deli on the Hill.
Turns out, the truck introduced Donley to the suburbs.
"We set up at a lot of corporations and we quickly realized there are a lot of hungry people out there," he said. "We thought we were more of a city brand, especially being from the Hill, and were afraid people wouldn't care about our product. But the truck took us to these places and created a loyal following for us in the county."
Donley, a second-generation owner of the deli that is famous for its hot salami sandwich, said the success of the food truck spurred him to explore the possibility of opening restaurants in St. Louis County. Next month, he'll open a Gioia's Deli at 623 North New Ballas Road, the site of a now-closed Goodcents Deli in Creve Coeur. The location, the third for Gioia's, will be the first outside of St. Louis.
Gioia's is part of a growing wave of restaurants traditionally concentrated within the city limits that are now turning their attention westward.
Mission Taco, which established three locations in the city of St. Louis, opened last year in the Streets of St. Charles development. Seoul Taco, a Korean-Mexican fusion restaurant that got its start on the Delmar Loop, is now up and running in Chesterfield. Copia [represented by Alex Apter of L3], the wine bar that has been doing business downtown for more than a decade, will open a new restaurant in Clayton later this month and has also agreed to open a third location in the former Elephant Bar restaurant on the West County Center property in Des Peres.
Even regional concepts, such as Syberg's, which has historically operated within the Interstate 270 belt, are expanding farther west. Syberg's is set to open in a former Joe's Crab Shack in St. Peters later this summer.
"There's certainly pent-up demand, and we all know there is a lot of disposable income in west St. Louis County or St. Charles County — areas that are untapped from a local restaurant perspective," said Kevin Shapiro, a real estate broker with L3 Corp. who specializes in restaurants. "We've seen a number of chains either go into bankruptcy or leave the St. Louis market, which has opened up restaurant space at reasonable costs for the local guys to come into."
Qui Tran [represented by Kevin Shapiro of L3], who opened Nudo House in Creve Coeur last year, said it's a demographics game.
"From a business sense, it just makes a ton of sense — it's higher income in an unserved market," he said. "But also, there's 20,000 people that work in offices within a half-mile radius of my restaurant, and that doesn't even include everything that is happening in the Westport/Page Avenue area. There are just businesses everywhere."
Tran got his start in his mother's Vietnamese restaurant, Mai Lee, which was then located in University City. "I think a lot of people have a misconception about St. Louis County that people just want to eat at chains, but that's not been my experience," he said. "(Nudo House) has gone better than expected, and we're continuously picking up new customers."
The St. Louis-area is home to more than 3,500 eating and drinking establishments, according to figures from the National Restaurant Association. Those establishments employ approximately 70,000 workers and account for an estimated 30 percent of the state's $10.5 billion sales from restaurants. By 2027, the state's food service industry is expected to have nearly 10 percent more jobs.
Restaurant space in St. Louis County and St. Charles County can be more expensive than that of the city. Average asking rents in the West County/mid-county area can be more than $20 per square foot, the most expensive in the region, according to research from Cushman & Wakefield.
Shapiro, with L3, said the restaurant market is tight right now, "and space doesn't last on the market long." But ready-made spots that were previously restaurants can help offset the high rents.
"If you can find a restaurant space that has the higher-capacity HVAC, gas, sewer and water needed, it can shave off some of the costs needed to get started," he said.
Adam Tilford, who owns Mission Taco Joint, said the opportunity outweighed the costs associated with opening a new restaurant in a market such as St. Charles that wasn't used to seeing new-age cuisine.
"We actually looked all over St. Louis County before we opened in St. Charles, but St. Charles hit us as an area that was just looking for local," he said. "We opened in June 2017 (in Streets of St. Charles) and it's been going great. The first week we were open, we had the busiest week of any Mission Taco already open."
Donley, of Gioia's, said it's more expensive, but "unlike downtown, there is more opportunity at night and there's more of a weekend crowd."
An opportunity also exists beyond in-store sales — in catering.
Corporate catering, according to a recent survey from the International Catering Association, is expected to the fastest area of growth for such companies around the country.
"That was really one of the driving factors for going out there to begin with — we were already doing about four or five catering jobs a day in that area and those were all being made at the original location," Donley said. "Catering is a big focus for us with the new location. There are two major hospitals out there and a bunch of corporations. We've hired a catering manager and we're really hoping to compete against the Paneras and the buy guys that are gobbling up the catering business."
Shapiro said he expects to see more restaurants that have original or second locations in the city to open new stores in West County and beyond.
"I think that as others see these restaurants succeed, more will follow," he said. "There's still room to grow."
In addition to Gioia's Deli and Nudo House, Kevin specializes in and represents several  national and local restaurant concepts. L3 Corporation is a leading retail commercial brokerage firm specializing in tenant representation, landlord representation and property acquisition and disposition. Members of L3 Corporation have brought deals to fruition in excess of 35,000,000 square feet spanning over 100 cities throughout the United States and Canada. L3 Corporation is focused exclusively on retail real estate. Contact Kevin Shapiro or Alex Apter for more information on these restaurants or for any of your retail real estate needs.
Source:  St. Louis Post Dispatch