Original Article By: Debra D. Bass, St. Louis Post Dispatch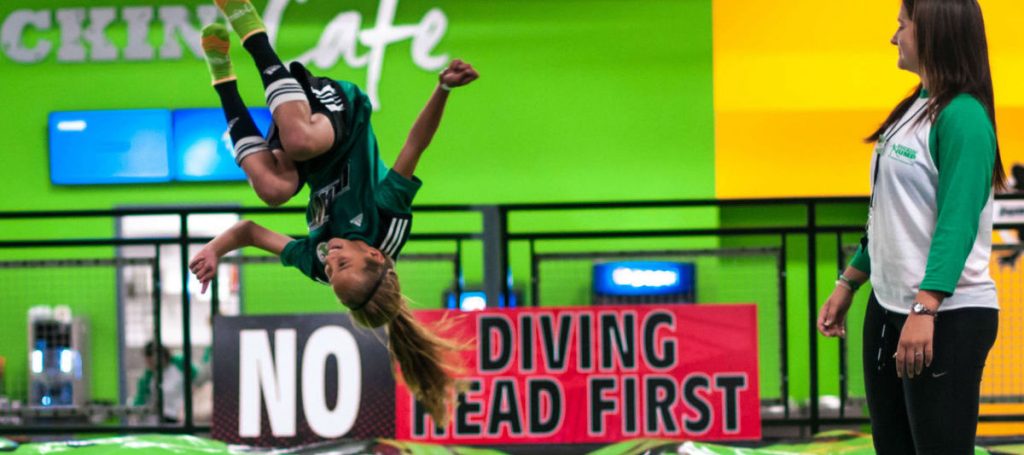 The latest trampoline park edges closer to the city of St. Louis in a new mixed-use retail complex located just west of Shrewsbury city limits at 7375 Watson Road [The Center at Kenrick Plaza, represented by L3 Corporation – SEE PROPERTY BROCHURE].
Rockin' Jump, the second franchise in the region, is set to open July 22 as yet another superlative-loving recreation facility with the tagline, "the ultimate indoor trampoline park." The new 25,000-square-foot facility will be in a newly developed shopping center adjacent to the redeveloped Kenrick Plaza property. The first Rockin' Jump opened a year ago in O'Fallon, Mo.
Owner of the local franchise Matt Strelo said, "We already have people stopping by asking, 'Can I drop my son off while I go shop at Aldi?'" The grocer is the anchor of what is being called lower Kenrick Plaza and is located next door. The answer, he said, is yes.
The trampoline park targets 4- to 16-year-olds, he said, but parents, guardians and nonjumpers will have plenty to do, with free Wi-Fi, a full-service cafe, massage chairs and lots of sporting events broadcasting on TVs.
"When I was a kid, everyone was in Little League baseball or playing basketball or football, but now … unless you're in a serious league and playing all weekend, every weekend you are left out," he said. "So a lot of kids end up spending a lot of time with video screens on the weekend."
Don't tell, but he calls his trampoline park "exercise, disguised as fun." The facility includes two dodgeball courts, a rock climbing wall, a basketball court with trampolines for dunking and a stunt area with apparatus for doing tricks safely. There will even be a three-lane ninja court mimicking the popular TV obstacle courses — one lane will be designed for elite athletes but another will be suitable for 10-year-olds; the third is something in between.
Time at the park can be booked on the half-hour, ranging in price from $10 to $20 for 30 to 90 minutes.
So far there are at least seven other specialty trampoline parks in the region, including outlets by Sky Zone, Altitude and Flying Spider [Landlord represented by L3 Corporation in this transaction], located in Ballwin, Chesterfield, Fairview Heights, Fenton, Glen Carbon and O'Fallon, Mo.
Strelo said such outlets have become key attractions to modern shopping centers looking to diversify occupants and fill parking spaces year-round. Experiences like this, he said, are something Amazon hasn't figured out how to deliver to your front door.
Source:  St. Louis Post Dispatch
L3 Corporation is a leading retail commercial brokerage firm specializing in tenant representation, landlord representation and property acquisition and disposition. Members of L3 Corporation have brought deals to fruition in excess of 35,650,000 square feet spanning over 100 cities throughout the United States and Canada. L3 Corporation is focused exclusively on retail real estate. Contact Kevin Shapiro for more information about Rockin' Jump in Shrewsbury, MO -or- Alex Apter about Flying Spider in Ballwin, MO or for any of your retail real estate needs.