Original Article By:  Cheryl Baehr, Riverfront Times
Keith and Gail Kitsis took a chance on a restaurant and created a phenomenon.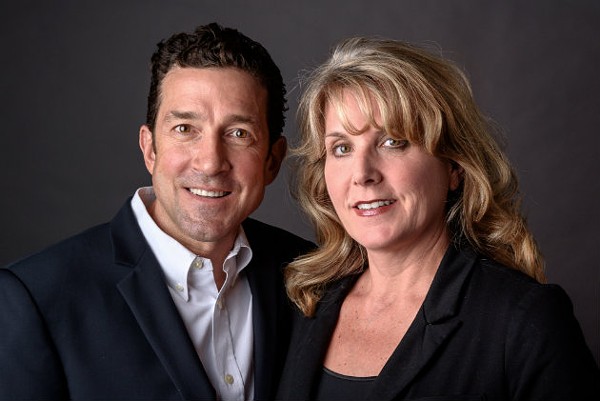 Looking back, Keith Kitsis admits that, had it not been for a healthy dose of youthful naiveté, he and his wife Gail might never have taken the leap to open Crazy Bowls & Wraps [represented by L3's Kevin Shapiro].
"We said, 'Let's just do it, and if it doesn't work out, we are young enough and can figure it out,'" Kitsis recalls. "When you look back, maybe we didn't think it through as much as we should have, but sometimes you can become so intelligent that you become risk averse. If we would've went to an attorney and asked them to punch holes in our idea, we would have never done this."
Now in its 25th year, Crazy Bowls & Wraps is successful enough that it's hard to think of it as anything but a sure thing. Since the couple opened their first store in Creve Coeur in 1994, the brand has become a local phenomenon with sixteen locations and legions of loyal fans.
When Kitsis started out, however, he never dreamt of finding overwhelming success in the restaurant business. A St. Louis native, he was living in Phoenix, Arizona, where he worked in the employee benefits industry and Gail was a teacher. Though they had no intention of leaving their careers, they couldn't help but notice the abundance of healthy rice and grain bowl concepts that dotted the city's dining landscape — and that there was nothing similar in St. Louis.
That realization gave them an idea: They had been wanting to move back to their hometown. Why not bring a healthy, fast-casual dining concept with them?
"We saw such a divide between what was available out West and in St. Louis," Kitsis says. "When we noticed that, it just made so much sense to me that we should open one there. We weren't trying to do anything radical — just give people healthy things to put in their bodies to make them feel better."
The timing was right for the couple, who had just flipped a house and had a little money to put into opening a restaurant. They knew their idea was sound and they had the funds to run with it. However, they were also clear that they needed help bringing it to fruition. Kitsis had never worked in a restaurant in his entire life, so he received a crash course from a Japanese chef in Phoenix who taught him the operational side of the business. He brought some of the guys he worked with at that restaurant back to St. Louis with him to help him get started and develop the menu. Then he was off.
"My first real day in the restaurant business was the day we opened our restaurant," Kitsis recalls. "It was definitely a school-of-hard-knocks thing. We had to learn a lot and make a lot of mistakes, but we listened to what our customers told us and started figuring it out."
Kitsis credits two people for helping him and Gail along their journey. The first was his father-in-law, who instilled in them the importance of accounting and measuring performance. The other was Ken Rosenthal, the founder of Saint Louis Bread Company, who took the Kitsises under his wings and helped them figure out some of the details for Crazy Bowls & Wraps — notably the wrap itself, as well as the importance on continuously rolling out new items.
From there, things only went up for the Kitsises. Building upon the success of their first store, they opened a second. Then a third. Before they knew it, they were the proprietors of a bona fide restaurant chain, complete with an army of fans and some signature dishes, like the buffalo chicken wrap, that the same people come in to order every day.
To that point, Kitsis is not surprised.
"I eat it all the time. In fact, I'm probably going to eat there tonight. I'll go to the Lindell location after yoga in south city and have the teriyaki chicken bowl with quinoa," Kitsis says, laughing. "This is such a fun business, and it's obviously challenging, but I can be creative in my business. The best part about it is that we are the sum of interactions we have with other people."
Kitsis took a break from celebrating Crazy Bowls & Wraps' 25th anniversary to share his thoughts on the St. Louis restaurant scene, how his passion for the outdoors influences his business, and the one thing you will never see in one of his rice bowls.
What is one thing people don't know about you that you wish they did?
I am passionate about hiking and being outdoors. I enjoy exploring local and national parks, especially when I travel.
What daily ritual is non-negotiable for you? 
Exercise and meditation. It allows me to focus and be present in all other areas of my day. The best ideas come to me when I exercise.
If you could have any superpower, what would it be? 
If I could have any superpower it would be to manipulate time – sometimes there are not enough hours in the day.
What is the most positive thing in food, wine or cocktails that you've noticed in St. Louis over the past year?
I can think of two positive things that I've noticed: First, I love that local restaurants are thriving because this means more and more people are focused on the quality of their product. Second, I love seeing that customers are becoming more concerned about what they put in their body and how they are supporting local, healthy restaurants.
What is something missing in the local food, wine or cocktail scene that you'd like to see? 
I believe that we have such an eclectic variety of food, wine and cocktail options. One is never bored of the options in St. Louis.
Who is your St. Louis food crush? 
Gail and I always enjoy going to Anthony's and sitting at the bar.
Which ingredient is most representative of your personality? 
Pomegranate.
If you weren't working in the restaurant business, what would you be doing?
Traveling the world and practicing yoga in India.
Name an ingredient never allowed in your restaurant. 
We would never put Spam on our menu.
What is your after-work hangout? 
Castlewood State Park.
What's your food or beverage guilty pleasure? 
Doughnuts at Donut Drive-In.
What would be your last meal on earth? 
My last meal on earth would probably consist of eating at my mother-in-law's on Sunday enjoying the company of my family.
In addition to Crazy Bowls & Wraps, Kevin specializes in and represents several  national and local restaurant concepts. L3 Corporation is a leading retail commercial brokerage firm specializing in tenant representation, landlord representation and property acquisition and disposition. Members of L3 Corporation have brought deals to fruition in excess of 35,000,000 square feet spanning over 100 cities throughout the United States and Canada. L3 Corporation is focused exclusively on retail real estate. Contact Kevin Shapiro  for more information on Crazy Bowls & Wraps or for any of your retail real estate needs.
Connect with us on LinkedIn | Like us on Facebook | Look for us on Instagram | Follow us on Twitter